'Million Dollar Scholar' gets a deal on ABC-TV's 'Shark Tank'
By Larry Carter -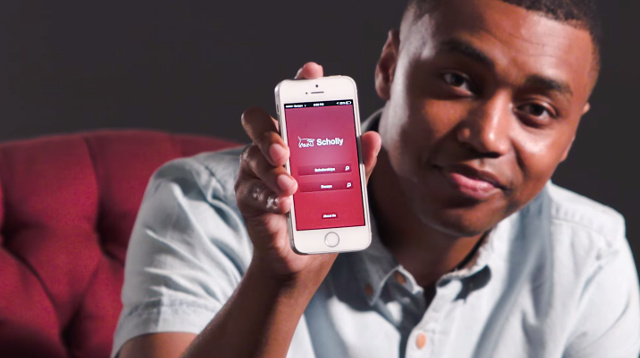 Devin Robinson, 21, a local resident and junior at Drexel University, shows the app he created with two other students that landed him on ABC-TV's "Shark Tank" last Friday night. The deal he got with two "Sharks" prompted the other three billionaire entrepreneurs — Mark Cuban, Kevin O'Leary and Robert Herjavec — to walk off the set angrily.
My wife, who is now retired, was a guidance counselor for years at Olney High School, whose huge student population of about 3,000 is made up almost entirely of low-income, inner-city minority teenagers. One of the jobs of a guidance counselor is to help students with college applications and to explore the possibility of scholarship aid for those who qualify.
I remember my wife saying, "Almost all of the students have no idea how much scholarship money is out there just waiting to be used." Thousands of colleges and universities in the U.S. have untold millions in scholarship money they will make available to graduating high school seniors in hundreds of categories — for every racial and religious minority group, for those seeking to go into certain professions, for those willing to volunteer in low-income neighborhoods or in the Third World, for those who live in certain types of communities, for the children of farmers, carpenters, retail store clerks and so on ad infinitum. Most of this scholarship money goes unused.
The problem, as stated earlier, is that few if any students — and maybe not even many teachers and guidance counselors — are aware of all this money which could make the difference between a graduating senior going to college or not going to college. However, one person who is definitely aware of all this potential financial help is Drexel University junior and business major, Devin Robinson.
Labeled the "Million Dollar Scholar," Devin Robinson, 21, did his own research when he was planning for college. Robinson applied for 72 scholarships and was awarded 34, the amounts of which added up to $1.3 million. But accomplishing this was not exactly a walk around the campus. Robinson spent countless hours over many months looking through database after database to find scholarships he might possibly be eligible for. Needless to say, filling out all of the applications was extremely time-consuming. But the payoff was well worth the time expended. "The truth is," Robinson said in an earlier interview, "most students are just not willing to put in all the time it takes to find scholarships, so they turn to loans. Students who are already in college don't even know they can still apply for scholarships. There is not a lot of awareness about what's available. I knew that there should be a faster and easier way to search for and find scholarships." Robinson decided that if he could make the information available to students all over the country that he discovered by relentless determination and hours of research, he could build a business of his own while at the same time potentially benefiting millions of young people. So Robinson developed a way to make the search for scholarship money a much easier, more consumer-friendly process for high school and college students alike. So he teamed up with Nick Pirollo, a Drexel student majoring in computer science, and Bryson Alef, a student at Amherst College, and together they developed the "Scholly app." The app is available for 99 cents through the App Store and Google Play. The budding entrepreneurs decided to keep the price super-low so that any student, no matter how impoverished, could still afford it. Applicants can download the app, insert some basic information about themselves and what they are looking for and then probably be matched with dozens if not hundreds of scholarships they may be eligible for. The immense value of this information is obvious. "All scholarships are handpicked to make sure they are legitimate, and the search is curated," Robinson said. "The months it takes students to look for scholarships have been turned to minutes." According to the Drexel News Blog, "The database that Robinson and Pirollo developed for Scholly allows them to keep the listing of scholarships up to date. Pirollo, who specializes in app development, wrote scripts that will notify them of potential issues with the scholarships, including expirations and inaccuracies. But the team still siphons through the list on a monthly basis to make sure it is 100 percent accurate. Eventually the team's goal is to produce a dynamic notification system that can manage the database along with a group of people working together to curate the list." Last Friday night, Robinson appeared on ABC-TV's popular "Shark Tank" seeking a $40,000 investment in return for a 15 percent stake in "Scholly." Two of the "Sharks," Lori Grenier ("The Queen of QVC") and Daymond John, founder of the Fubu clothing line, almost immediately agreed to give Robinson what he was seeking, a highly unusual development on the show. This quick deal set off the biggest "Shark Fight" in the history of the show, with the other three "Sharks" — billionaires Mark Cuban, Kevin O'Leary and Robert Herjavec — all walking off the set. They were angry because John and Grenier had not asked the usual questions about the sales Scholly had so far, the company's plans for the future, etc. Cuban even angrily referred to the deal as "charity," while Grenier said he was "just jealous." For more information about Scholly, visit www.myscholly.com.